Business Opportunities
rabbittransit has a lot to offer the business community in today's highly competitive environment. Many organizations have realized this and have seized the opportunity to gain a competitive advantage by offering employees transportation-related benefits including discounted passes, subsidized work shuttles or transportation tax incentives.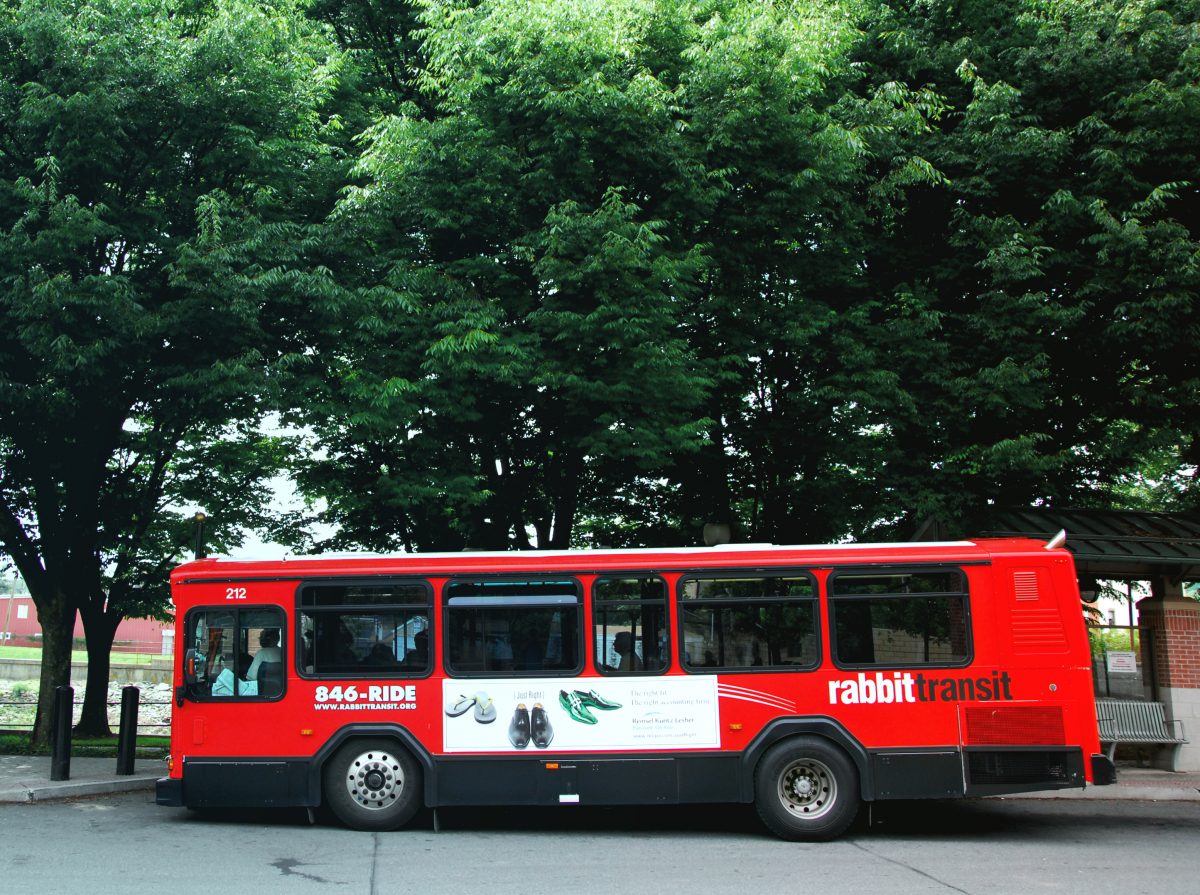 Want to make that advertising dollar stretch farther? Consider sponsorship which offers a variety of promotional opportunities for a cost that gives more bang to your buck.
Gain Exposure. Support Your Community.
Receive 12 months of brand exposure on a moving billboard for a fraction of the cost of traditional advertising
Target advertising to thousands of consumers who ride rabbittransit
Show your support for public transportation
The sponsorship will continue for one year. Production costs or any artwork costs associated with designing an advertisement for the rear sign or interior bus advertising are not included in the sponsorship cost.
For more information, contact Jenna Reedy at 717-846-5562 or email jreedy@rabbittransit.org.
Sponsorship Packages Include the Following:
Exterior Bus Advertising
Your organization's logo will be placed on the rear of one of rabbittransit's fixed route buses with the description, "This bus sponsored by . . ."
Interior Bus Advertising
Your organization will be given the opportunity to include one interior bus sign in ten (10) of rabbittransit's fixed route buses. An interior bus sign measures 11" x 28" and can be used as an advertisement for your organization or can have a sponsorship emphasis "[Logo] proudly supports rabbittransit".
Website Listing and Link
Your organization will be listed on rabbittransit's website (rabbittransit.org) as a sponsor. A link to your website will also be included on our website.
Public Recognition
rabbittransit will recognize all of its sponsors through a press release announcement and featured in an email newsletter.
Subsidized Shuttles
Need transportation for your employees? Perhaps we can collaborate on a new bus stop or deviate a route near your location. Subsidized shuttles are becoming increasingly popular to get your workforce to where you need them.
Participating Organizations
These area organizations have participated in the past or present to benefit from bulk discount pricing or subsidized shuttles.
Bell Socialization
Community Progress Council
Council of Churches
First Presbyterian Church – Caring Company
Giant
Glaxo
Graham
HACC
Hanover Red Cross
Helen Thackston
Key Plastics
Life Skills
Lutheran Social Services
McDonald's
Memorial Hospital
Penn State York
Philhaven
Preventive Cardiology
Salvation Army
Shadowfax
Utz/ The Performance Group
WiredCommute
York Adams Drug & Alcohol
York Adams Mental Health and Mental Retardation
York City School District Lincoln Intermediate
York College
York County Area on Aging
York County Assistance Office
York County Career Link
York County Human Services
York County Prison
York Hospital
York Hospital Care Management
York Red Cross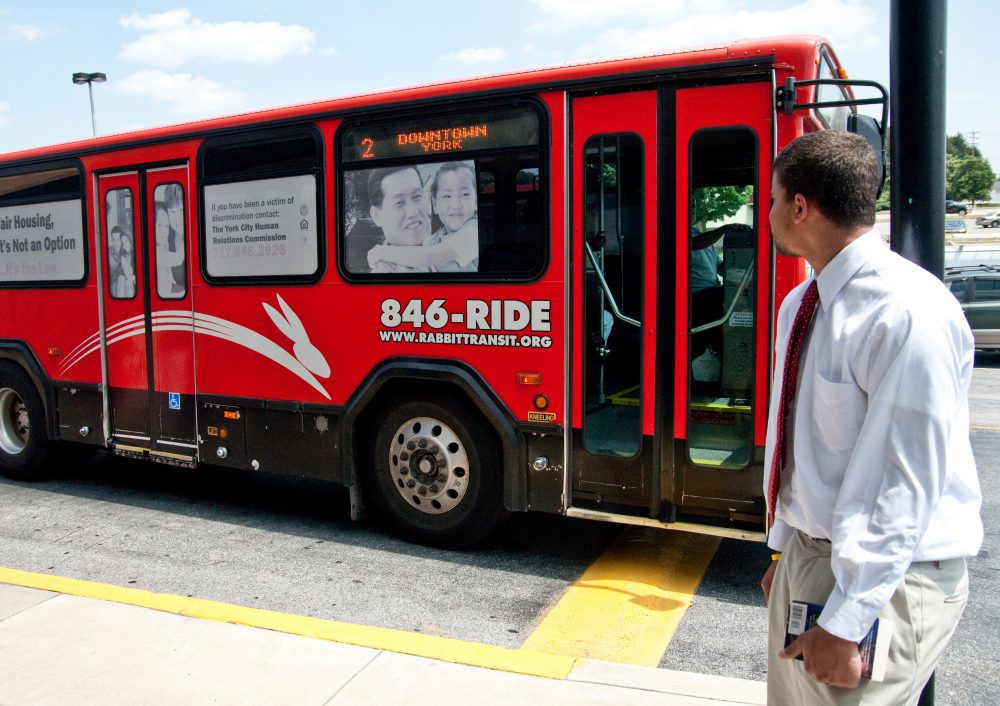 Bus Advertising
Advertising on rabbittransit buses is a cost-effective way to reach prospective customers with larger-than-life messages they simply can't ignore.
For bus advertising options and pricing, contact:
Anthony Maydwell
Market Manager Pennsylvania
Vector Media.
Phone: 717-592-8792
amaydwell@vectormedia.com
vectormedia.com
Bus Shelter Advertising
Why Transit Ads?
They're memorable. A study of transit shelters in Philadelphia indicated that "aided recall" of the ad message was nearly three times that of print ads, and nearly twice that of TV.
They're hard to ignore. Transit ads can't be fast-forwarded or tossed aside. People see your ads seven days a week, around the clock, when they're out of the house or office and ready to respond. Often, they have no choice but to look!
They're cost-effective and simple to execute. Transit advertising typically costs much less per impression than television, radio, newspaper, internet ads or billboards—as little as $.003.
For bus shelter advertising options and pricing, contact Lamar Outdoor Advertising at 717-252-1528.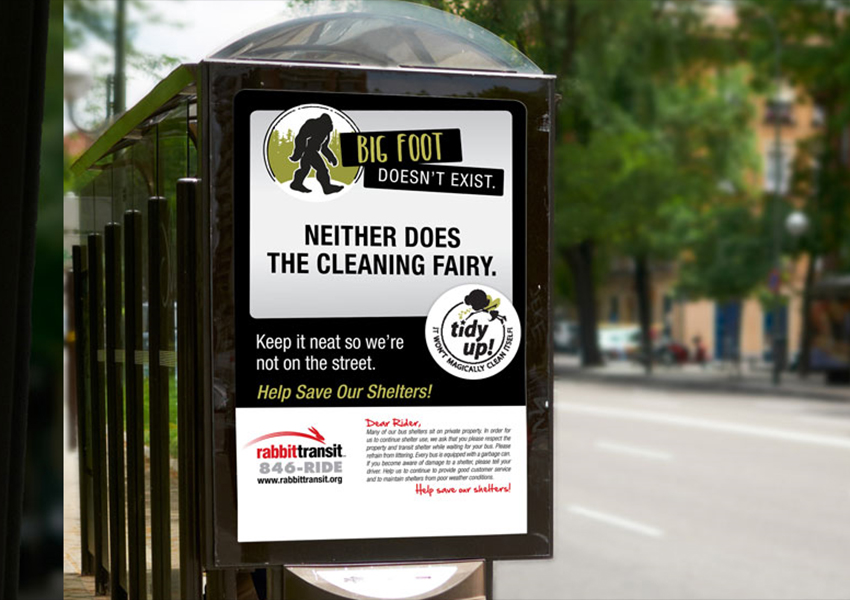 Employer Kit
Consider rabbittransit if you are looking for ways to:
Recruit and retain workers; increase your labor pool
Save on payroll taxes
Reduce parking costs and/or spaces
Improve attendance
Enhance productivity
Improve morale
Achieve environmental benefits
Learn more about all of the opportunities available to employers by downloading the complete PDF version of our Employer Kit.
rabbittransit has a lot to offer the business community in today's highly competitive environment. Many organizations have realized this and have seized the opportunity to gain a competitive advantage by solving their employees' transportation needs.
Requests for Proposals
rabbittransit operates mobility services in York, Adams and Northumberland Counties in Pennsylvania. To provide our services, we rely on a broad range of businesses and contractors who work with us through the procurement process. The goods and services we purchase, ranging from office supplies to buses, are crucial to providing safe, reliable and economical transportation for our customers.
rabbittransit is committed to providing a full and open competitive environment for procurement opportunities in conformance with local, state and federal regulations. rabbittransit solicitations are issued as Request for Proposals (RFP); Invitations for Bids (IFB); or, Request for Quotations (RFQ) depending on the type of goods or services.
Guidelines and procedures for all procurements are contained in the bid documents at the time of solicitation. rabbittransit encourages small businesses owned by minorities and women to pursue contracts to compete for rabbittransit business.
If you are interested in obtaining RFPs, please contact Dwight Huntington at dhuntington@rabbittransit.org.