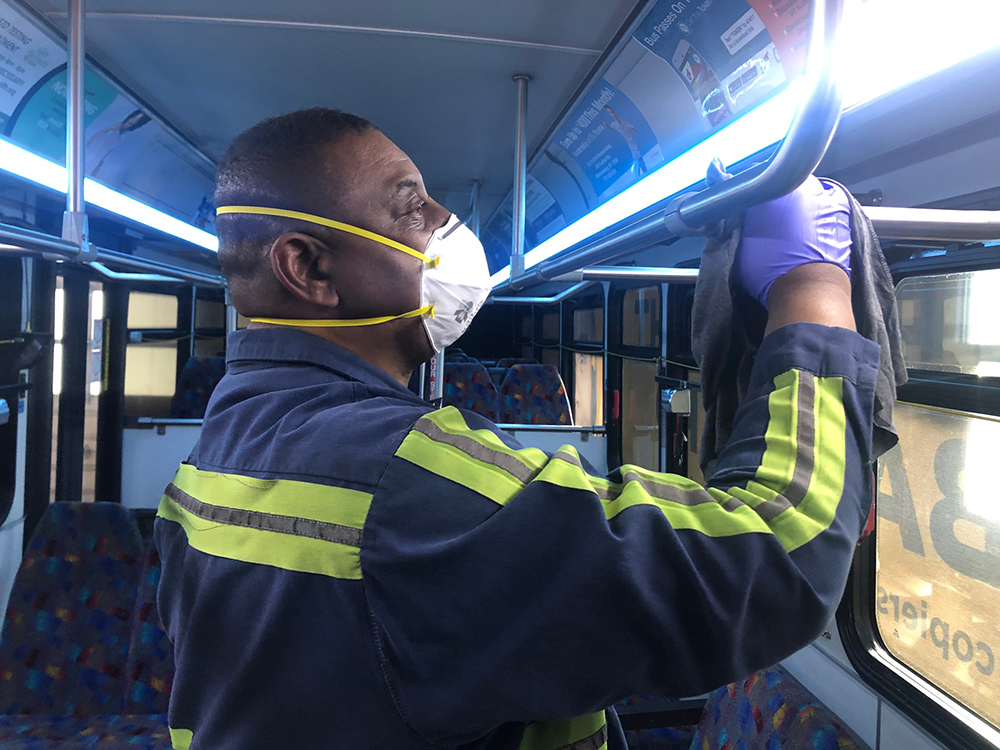 COVID-19 UPDATE
UPDATE 3/27/20:
Service Changes
In light of COVID-19, precautionary measures rabbittransit has implemented include free fare,  rear boarding and following social distancing protocols. Out of an abundance of caution for rabbittransit employees and the general public, we request that passengers only ride for life-sustaining needs (medical appointments, employment, groceries).  Additionally, we have modified the schedules of fixed route and EXPRESS services.
Modified fixed route schedules begin March 29, 2020. Click here to view fixed route schedules.
---
UPDATE: 3/25/20:
Current 31 Day Pass Customers
This is an unprecedented time of uncertainty for all of us. rabbittransit understands the need for flexibility as places of business are making decisions to protect employees and subsequently our community, by allowing employees to work flexible schedules and/or from home.
To support these measures, rabbittransit will permit customers who purchased and activated a 31 day pass between March 2 and March 16, and have only used it for two weeks or less, to be eligible to receive an 11 ride pass; which does not expire.  No monetary refunds are available.
To limit social interaction during the COVID-19 situation, customers must mail the March activated pass to our office and include a return mailing address.  If no return address is included, rabbittransit will not be able to issue the 11 ride pass.
Replacements will need to be processed at rabbittransit's Administrative Office.  No immediate replacements will take place at the Downtown Transfer Center.  Passes must be mailed into our rabbittransit Administrative Office, no exceptions.
Mailing Address:
rabbittransit Monthly Pass Replacements
415 North Zarfoss Road
York, PA 17404
For those who purchased digital passes we are coordinating with our vendor Token Transit. Please stay tuned for more details.
---
UPDATE: 3/20/20:
The rabbitEXPRESS will run on a reduced schedule beginning Monday, March 23. Click here to view the schedules.
---
To further protect our employees, beginning Monday, March 23, 2020, rabbittransit will not collect fares on any Fixed Route, rabbitEXPRESS, or Stop Hopper service.  We continue to expect passengers to only ride for life-sustaining service (medically necessary, food access or employment), otherwise, we strongly encourage you to stay home at this time.   
---
We are asking that passengers please make donations to support the continuation of service.  Donations can be made at the Transfer Center, online or by mail:
rabbittransit
415 N. Zarfoss Dr
York, PA 17404
Please do not give donations to bus drivers.
---
Related to the COVID-19 pandemic – rabbittransit is reducing the hours of our customer service department. Starting on Monday, March 23, customer service will be available only between the hours of 7AM and 5:30PM, Monday through Friday.
---
UPDATE: 3/19/20:
In order for rabbittransit to continue to provide life sustaining service, we are calling on our customers for assistance. We need to create "social distancing" for our operators. rabbittransit is temporarily roping off the priority seating area surrounding the driver. We ask that you please refrain from sitting in this area. If you are an ADA eligible or senior passenger and are not able to access seating in another part of the bus, please notify the driver for assistance. Thank you for your cooperation. If you have any questions, please contact rabbittransit directly at 1-800-632-9063.
---
UPDATE: 3/16/20:
Today, Governor Wolf called for a shutdown of all nonessential businesses.  He has asked that people stay home to eliminate as many physical contacts as we can to prevent this strain of COVID-19.   https://www.governor.pa.gov/newsroom/
To honor the Governor's request, rabbittransit is asking our customers to do the following:
Please limit your fixed route transportation to essential needs only.  These may include trips to work, medical and grocery stores.
Shared Ride reservations will only be taken for essential needs, such as work, medical and grocery shopping.
Stay home when you can.  Be Safe.  Thank you for doing your part to keep our community as safe as possible.
---
Much has happened in the past few days related to COVID-19.  The Governor has asked that large gatherings be canceled statewide, sports leagues have been suspended, schools put on leave with many moving to virtual classrooms.
We want to update you on what these latest developments mean for riding transit.
We continue to follow — and encourage you to as well — the advice of the Pennsylvania Department of Health and the Centers for Disease Control and Prevention (CDC).  Currently, there are no recommendations to limit any transit service. Health experts understand transit is vital to the community and many people are dependent on our services to get where they need to go. While many events and other social gatherings may be canceled, people still need to get to work, medical services and the grocery store. We take this responsibility very seriously.
The Pennsylvania Department of Health is recommending "social distancing" — that you maintain six feet of distance between yourself and other people to help prevent the spread of COVID-19. With more people working remotely and prioritizing their travel needs, there is more space on vehicles.  We do ask that you remain respectful to and of other people.  When you don't have to travel, it is best to stay home.
We continue to clean our vehicles with disinfectant nightly. Just remember that these surfaces are only clean until someone touches them or coughs/sneezes nearby.
Preventing the spread of COVID-19 is a team effort, so please follow the recommendations of the CDC:
Wash your hands often with soap and water for at least 20 seconds, especially after going to the bathroom, before eating, and after blowing your nose, coughing or sneezing.
Avoid touching your eyes, nose and mouth with unwashed hands.
Cover your cough or sneeze with a tissue, then throw the tissue in the trash.
Stay home when you are sick.
For more information https://www.health.pa.gov/topics/disease/Pages/Coronavirus.aspx